Totem is our activity monitoring solution integrated with MOSAIQ®.
Totem supervises activities by monitoring MOSAIQ® objects: tasks, documents, appointments, etc.
The use of forms at different stages of the process makes it possible to fill in the parameters influencing the deadlines, stages, and dead-line of each activity.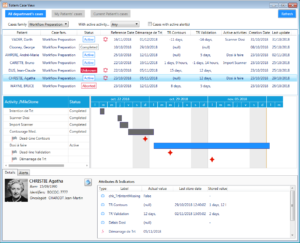 Because it relies on MOSAIQ®'s native objects, Totem integrates perfectly into the service's operation: it does not require re-entering, does not require managing progress in a separate application, etc....
Totem is suitable for monitoring a wide variety of processes:
dosimetry preparation workflow,
re-convening patients,
monitoring of vital signs (weight variation during the treatment phase),
Coupling to patient self-assessment from Tippy to alert the medical team in the event of an "abnormal" input,
….
Totem can produce and store global indicators at different stages of the processes - Presented then with the help of reports, they allow to follow and analyze more globally the activity of the service.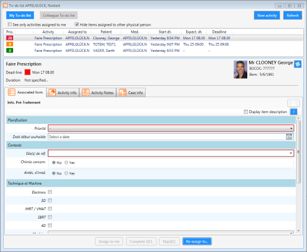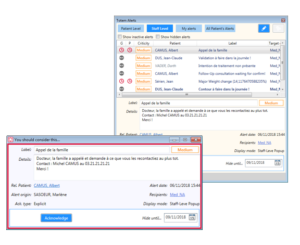 Totem also has an engine and an alert management interface: anomalies are reported immediately and in a discriminated way to the user; depending on the case, they can be presented as a popup or as a discrete notification.
The alert management interface is also usable independently of activity supervision: it allows teams to communicate effectively by distributing information to a particular group or location and ensuring traceability.
A quick look at TOTEM, the guardian angel of your Radiotherapy processes.
This video shows you how the TOTEM personnal worklist & global case view can help your teams work more efficiently!
You want to know more about TOTEM, its possibilities, the conditions of implementation?
Feel free to contact us using the attached form
EXPLORE ALL OUR SOLUTIONS
Patient-Summary assembles all or part of the patient data (discrete data, letters, scanned documents, images...) into a single structured PDF...
+