Patient-Summary produces structured PDF documents that bring together all the elements of the patient file: medical data, letters, physical and treatment data, images, …
Patient-Summary can be used interactively to produce a document for a particular patient, or in "server" mode to produce a PDF summary automatically and distribute them to an external system at the end of treatment for example.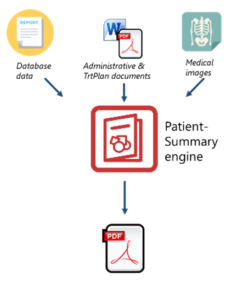 Some examples of use :
Daily archiving of the patient file to an external system,
Publication of the patient file to the hospital system at the end of treatment,
Production of a summary document for transmission to another radiotherapy service/centre,
Extraction of data for a patient or family upon request.
The content and structure of the PDF file are fully configurable, and several "templates" can be produced, each one responding to a particular need..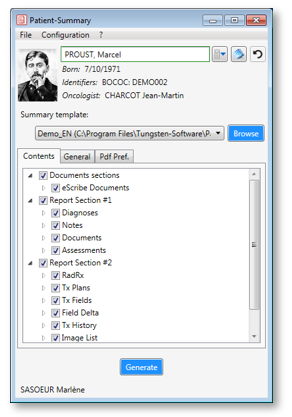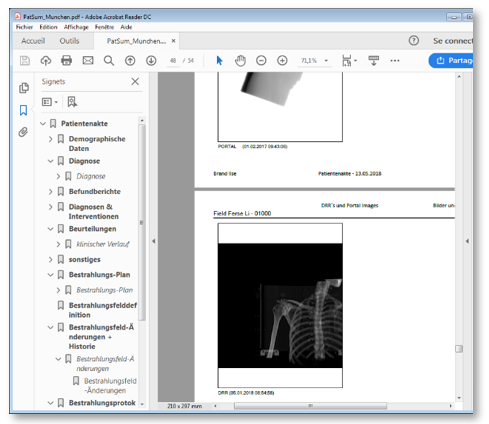 All the following elements can be integrated:
Documents (eScribe, eScan...),
Physics documents (Dosi PDF......),
Any data from the database, through ad hoc reports,
2D images: identity, positioning, DRR and Portals
The resulting PDF document has a table of contents with bookmarks, which makes it easy to quickly navigate to an item.
You want to know more about Patient-Summary, its possibilities, the conditions of implementation?
Feel free to contact us using the attached form
EXPLORE ALL OUR SOLUTIONS
With Patient-Control, patient verification process at the treatment-bunker entrance is enforced. Choose your modality: barcoding, fingerprint, rfid… …and put the...
+